News and Notes from
Around the League




3/27/05 - Keith - News and Notes from around the Grapefruit League:

Craig Wilson arrived in camp clean cut and ready to impress. There must have been some magic in those long gold locks of hair, because Craig won the BaseballEvolution.com award for the most futile spring performance. He fell behind in counts and missed the ball by miles, usually unable to even foul a pitch off. His futility on defense was evident as well, but that did not alarm us as much, since we rather expected it.

On the other end of the hitting spectrum, Phillies prospect Ryan Howard looked as dangerous as any major league hitter not named Barry Bonds. Learn more about this future star from his scouting report.

Roy Oswalt had the most electric stuff that we saw from the pitchers, although Dontrelle Willis gave the most dominating performance: 7IP 0R 3H 7K 0BB against the Astros on March 24th. Dontrelle also added two smoking hits, two runs, and an RBI.

We also saw impressive outings from Jeremy Bonderman, Jason Davis, and Kris Benson. Roy Halladay, Josh Beckett, and Matt Morris each gave us a brief view of their excellence, while Victor Zambrano, Jon Lieber, Jake Westbrook, and Mark Redman all had rough starts.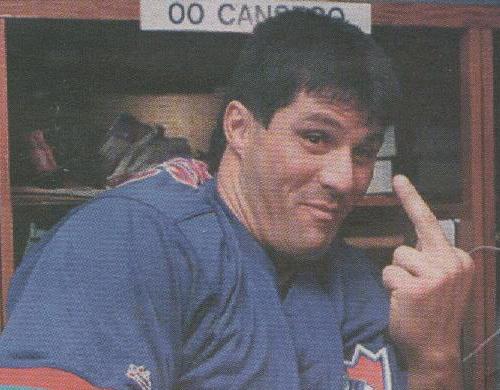 3/17/05 - Keith - News, Notes and Quotes from Thursday's congressional hearing:

Sosa, Palmiero, and Thomas all deny steroid use, while Mark McGwire refuses `` to talk about the past,'' whether it's regarding steroids or even Andro.

Curt Schilling calls Jose Canseco a liar, and estimates current steroid use to be less than 2% of Major League players, right along the lines of current testing statistics: ``The allegations made in that book, the attempts to smear the names of players both past and present, having been made by one who for years vehemently denied steroid use, should be seen for what they are: an attempt to make money at the expense of others.''

Canseco concedes that steroid use is not as prevalent as it was during its heyday of 1994-2000, and credits his book with scaring many players clean.

Senator and Hall of Famer Jim Bunning longs for the days when players do not hit more home runs in their late 30's than in their late 20's. He could only have been referring to Barry Bonds.

Experts agree that taking steroids could help add muscle mass and lead to harder hit balls. However, one P.H.D. testified that steroids could certainly not help hand-eye coordination, and added that sterods' effect on the brain would hinder the player's abilities to make sound decisions on the field of play.

3/13/05 - Keith - Jeremy Giambi, the man who went from a .919 OPS in 2002 to a .696 OPS in 2003, signed a Minor League contract with the White Sox on Tuesday. In 1417 career at bats, his OPS rests at .807, which may not be good enough to crack a crowded OF/1B/DH situation for the White Sox. Keith has details on that positional battle, as well as other South Side happenings in his White Sox Preview.

Jeremy also made headlines by admitting to steroid usage, and implicating his brother, Jason, as well. ``If you don't know what he's apologizing for,'' Jeremy said, ``you must've been in a coma for two years.'' Of course, Jason Giambi may have simply been apologizing for a .208 batting average last year. His return to stardom is one of many questionable events that the Yankees are counting on in 2005.

3/6/05 - Keith - Sammy Sosa, learning the reprocussions of leaving a game early, has developed a new tactic: get ejected from the outfield arguing balls and strikes. In the second inning of Saturday's game against the Nationals, Sammy yelled, "That was a strike" after Brad Wilkerson had a second ball called for him at the plate. Second base umpire C.B. Bucknor gave Sosa a warning before further statments prompted Sosa's removal from the game. This works out well for Sosa, who now has a way out whenever he doesn't feel like playing in a particular game.

3/1/05 - Asher - Derek Lowe, commenting recently on joining the Dodgers, had this to say -

"Their No. 1 goal is to win, not just stay afloat," he said. "They put together a team they think can win the World Series. Nobody even knows who's going to be the opening day starter. That's a testament to how good we are."

Is Derek saying that he came to the Dodgers because the Red Sox failed to make winning their number one goal? Did it seem to Derek that the Red Sox were merely trying to stay afloat? I guess winning the World Series just doesn't quite speak to the goals of a franchise the way it use to. Ironically, it would seem to many that signing Derek Lowe and his sorry 5.42 ERA would be indicative of anything BUT a dedication to winning.

And by the way, Derek, not knowing who your opening day starter is going to be is never a testament to how good you are.

2/25/05 - Keith - "I also need to not take as many pitches early in the count; I don't need to get deep in counts quite as often." --Adam Dunn, after being brainwashed by Reds hitting coach Chris Chambliss, who apparently learned everything he needed to know about being a hitting coach from the Angels' Mickey Hatcher.




2/24/05 - Giant Expectations, Giant Peril

Many prognosticators consider San Francisco the favorites to win the NL West in 2005. But can these Geriatric Giants really avoid the perils of a 162-game season? Slumps and injuries await these declining players, and Keith, for one, isn't afraid to say that they won't contend for the playoffs.

These Giants jump-start BaseballEvolution.com's 2005 Team Previews. Asher, Scott, and Keith will be analyzing the offseason moves for each of the 30 teams, providing bold predictions, cutting-edge analysis, and plenty of insults along the way. If you think that you can do the same for any one team, email us and we might let you cover that team.


2/15/05 - Cheers and Jeers from the House of 'Roids" 'Roids. The one syllable MTV-abbreviation has become audible in the background of most every baseball conversation in the last few weeks, especially in terms of debunking the accomplishments of the game's premier big boppers.

But negative criticism is very easy to give. What about the power hitters from the 90's who showed no bodily signs of steroid abuse? Scott thinks that we should take a look at their accomplishments in a new perspective.

2/9/05 - Keith - It's actually still Christmas for the Tigers, as the Cubs have given them Kyle Farnsworth in exchange for three non-prospect Minor Leaguerss. Coming on the heels of a Sammy Sosa trade for a utility player and two other non-prospect Minor leaguers, this whole 'getting no value in return for your players' theme is an unsettling trend for Cubs fans.

Meanwhile, Farnsworth trams up with Troy Percival, Ugueth Urbina, and Jaime Walker to form a superb front four for their bullpen.

2/8/05 - Magglio Mambo -


Just in time for Mardi Gras, the Tigers confirm that they have signed Magglio Ordonez to a five-year $75 Million deal that can escalate to 7-$105 with exercised options. The signing caps an excellent offseason for the AL Central, which is no longer a pretender division according to Keith. The Central now boasts four teams with a good shot at finishing over .500, and also contains the Kansas City Royals.

2/8/05 - Asher - Finding Things Not That Hard to Believe -

In his much anticipated new book, Jose Canseco has apparently announced that he juiced up with Juan Gonzalez, Ivan Rodriguez, Rafael Palmeiro, Mark McGwire, and Jason Giambi, amongst others.

The most interesting reaction of all, and perhaps the most telling, came from the Texas Rangers' organization:

"Neither our current owner, general manager and manager were with the Rangers then," Texas spokesman Gregg Elkin said. "The Rangers continue to support baseball's initiative to get steroids out of the game."

The statement speaks for itself. The implication is that something did go on.

In 1988, Jose Canseco was the reigning king of baseball, the name at the top of baseball's A-list. Is it that difficult to believe that the first big superstar of the new era was also the first player to use steroids, and that the whole steroid mess began with him?

Not that difficult at all.

2/4/04 - Cubs Say Hello to One Outfielder . . . While Saying Goodbye to Another -



The Cubs saved a little face on Wednesday, announcing first the completion of the Sosa trade to the Orioles, and second, the signing of Sosa's replacement, lefthanded power hitter Jeromy Burnitz. This series of transactions is sure to cause much debate between Keith and Asher, because although they agree that the Cubs basically gave Sammy away, Keith believes in the Fountain of Coors, while Asher thinks that anyone that would leave Colorado is out of their mind.

Just this once, Asher hopes Keith is right.

2/1/04 - Keith - Most knowledgeable baseball fans will tell you, when asked, that the Cardinals allowed fewer runs than any other team in 2004. But there are some people who would say that the Pittsburgh Pirates held that distinction. Are these people from another planet? No, silly, just from another universe. But many people from our own universe would be shocked to learn just how easy it could have been for the Pirates to have finished over .500 last season. Enter: The Bigfield Universe.

Speaking of Pittsburgh trades, is Asher the only who thinks that the Pirates swindelled the Athletics in the Jason Kendall deal? Keith, for one, names Asher's comparison of Kendall to Paul LoDuca as one of the The Ten Silliest Things Written by Asher on BaseballEvolution.com.

Keith's reference to silly things Asher has said reminds Asher of the Ten Silliest Things Scott Has Ever Said on BaseballEvolution.com.

Asher also thought very carefully about Keith's comments, and has prepared a reply.

1/28/04 - Keith - Orioles' owner Peter Angelos said that first baseman Carlos Delgado's $52 million contract with Florida reflects baseball's "fiscal insanity." Peter Angelos is the man who paid David Segui $6.8 million in 2004.

1/23/05 - Asher - The quality of past experience has lost all importance in the Boston area these days, as Doug Mientkiewicz has found himself in a pickle concerning his right to keep a basebll. It seems Doug caught the last out of the World Series and, in a stunning display of presence of mind, held onto the ball. And he didn't let go. It now sits in a safe deposit box in Florida, and has set Red Sox Nation on fire. In Asher's opinion, the Red Sox should let him keep the ball."

1/20/05 - Asher - Apparently, the city of Los Angeles feels about as good about getting the Angels back as the city of Anaheim feels about losing the Angels. The city filed a brief in Orange County Superior Court in which they claim that the court should "should reject the Angels' attempt to profit from the Los Angeles name they abandoned long ago." The brief goes on to argue that "The Angels are not a Los Angeles team and should not be identified as such," the brief added, calling the team's new name "misleading and confusing."

The name change, of course, is an attempt to associate the team with the nation's second largest media market, which would increase profitability for the team. How this change would affect the team is unclear, however, since the Angels trailed only the Dodgers and Yankees in attendance last season.

1/18/05 - Asher - Mets GM Omar Minaya has signed the biggest names in the free agent pool, Pedro Martinez and Carlos Beltran, and is pursuing Carlos Delgado. There are a number of points to be made here.
1. Good for you, Omar. After the debacle in Montreal, you get to be the GM of the Mets, where cash flows freely and there are little to no repurcusions for bad roster moves.
2. Why are the Mets always in such a doggone hurry to sign guys coming off of down years to big contracts? Kris Benson, Pedro and Delgado this year, Mike Cameron last year, Shawn Estes and Mo Vaughn in 2002.
3. What's Mike Cameron gonna do now that Carlos Beltran is in town?
4. Loaded with mediocre starters, Omar chose to let Al Leiter go. Hmmm...

Only one of these moves makes the list, however, of Top Ten "What Were They Thinking" Moves of 2004-2005 Off Season.

1/15/05 - Keith - Mediocre pitcher Jon Garland, at a $3.4 million salary for 2005, will make about a million dollars more than the average player. Odd that the White Sox would allow this, seeing as how Garland has proven himself to be exactly average. Get a load of Garland's ERA compared to the rest of the AL's over the past three seasons:


Year Jon AL ERA+ W L

2002- 4.58 4.60 100 12 12
2003- 4.51 4.48 99 12 13
2004- 4.89 4.92 100 12 11

His career ERA+ is 101.

1/6/05 - Asher - Much has been made recently about the Yankees off-season moves, and it has been suggested that the 2005 Yanks may turn out to be the finest collection of talent ever to play for one team. Buster Olney, for example, has commented that the Yanks will have seven Hall of Fame candidates on their team this coming season, which of course begs the question - Which team in baseball history in fact had the greatest collection of talent ever?

1/1/05 - Happy New Year! - Last year was a happy one for Tino Martinez, who in 2004 earned $7.5 million and topped an .800 OPS for just the second time since 1998. This year looks to be less advantageous for Tino, as he signed with the Yankees for $4.5 Million less than he made last season. Odd, that someone could exceed all expectations like that and have his salary more than halved. Tino is also depriving himself of hitting against the Yankees, a team he has thrashed with a .610 SLG in 210 career at bats.

See News and Notes from 2004.

See News and Notes from 2003.