2009 Minnesota Twins: They're Still Here
BaseballEvolution.com 2008 Spring Preview
by Asher B. Chancey, BaseballEvolution.com
March 25, 2009
Key Transactions
Acquired
Pos.
Joe Crede
3B
Luis Ayala
RP
R.A. Dickey
RP
Departed
Pos.
Adam Everett
SS
Eddie Guardado
RP
Dennys Reyes
RP
Brian Bass
RP




Who is the best manager in all of baseball? Arguments could be made for Tony LaRussa or Joe Torre. I say it is Ron Gardenhire, and there is no way to deny it.

Who has the best front office in all of baseball? Well, despite the horrendous Delmon Young for Matt Garza trade a year ago, it is still the Minnesota Twins. It can be denied, but it is still true.

Maybe they don't have television cameras in Minnesota. Maybe the Twins stadium and the Twins uniform and the Twins fans aren't exciting enough for baseball. Maybe you have to be in the AL East to get known in this game.



For some reason, year in and year out, the Minnesota Twins manage to do well, and for some reason, year in and year out, the baseball viewing public is surprised.

And it shouldn't be surprising – this is a team that makes good trades, drafts well, and plays bona fide talented players every day.

Their lack of mainstream commercial success is baffling.

How awesome as an athlete is Catcher Joe Mauer? Well, I don't know who his wide receivers were, but in his senior year of high school, he completed 241 of 288 passes as the

Joe Mauer

quarterback on his high school team and was everyone's national player of the year. And he may just be the best pure hitter in baseball today. There are very few positions where we have no doubt about who the best player in that position in baseball is – catcher, first base, second base – and at catcher, that player is Joe Mauer.

Mauer has somewhat famously become the first catcher to win an AL batting title, and has now done it twice. How amazing is that? Well, forget the catcher thing for a minute – the list of players who won two batting titles in three years is a list of guys like Rod Carew, Wade Boggs, Pete Rose, Barry Bonds, etc. Some elite company for a hitter.

Could Mauer become the greatest catcher of all time? It is early, but yes.

Bad news at First Base for the Twins – as awesome as Justin Morneau is, he has been a strict every other year player, and 2009 is his down year. Of course, his last down year was pretty tasty, but a down year nonetheless.

Good news at Second Base - Alexi Casilla enjoyed a good 98 games there last year. He needs to improve with the glove, but that should come with playing time. He is a light hitter who does not strike out and will only be 24 years old in 2009. The right side of the infield should be set for the Twins.
| | | |
| --- | --- | --- |
| Pos | '08 | '09 |
| C | Mauer | Mauer |
| 1B | Morneau | Morneau |
| 2B | Casilla | Casilla |
| 3B | Buscher/Lamb | Crede/Buscher |
| SS | Punto/Everett | Punto |
| IF | Harris | Harris |
| LF | Young | Young |
| CF | Gomez | Gomez |
| RF | Span/Cuddyer | Span/Cuddyer |
| DH | Kubel | Kubel |


Strange how 2008 appeared to be the Year of Second Basemen Named Alexi in the AL Central.

Bad news at Third Base for the Twins – despite a nice partial season from Brian Buscher in 2008, the Twins now have Joe Crede in camp and at the top of the depth chart. Never mind Crede's .733 career OPS away from Chicago – he has a career OPS of .597 in the Metrodome (not SLG but OPS), and hasn't played a full year since 2006. I don't know whether Brian Buscher is the answer at third for the Twins, but I know that Crede is not.

Okay, fine - I'll mention Crede's defense. He's amazing at defense. He's also older and has been out for two years, so his defense may have suffered.

The Shortstop position is a real problem for the Twins in 2009, and one which could undermine their whole season. They currently have Nick Punto, a natural third baseman, scheduled to start while Brendan Harris (also a natural third baseman) is slated to back him up. I think Punto is an adequate hitter and fielder, but it seems like the odds of him making through the whole season without wearing down at the age of 31 are slim. Harris is an inadequate defender and has proven unable to hit as well. This is not a position in which a team wants instability, but it looks like they've got it.

Wanna know how much I like Nick Punto at shortstop in 2009? Almost as much as I liked Al Newman at shortstop in 1989, which is not very much at all.

Wanna know why Carlos Gomez didn't win a Gold Glove for his work with the Twins in the Outfield last season? Because the Gold Glove system is broken. There is simply no other reason. There is simply no system around to measure defense that doesn't see Gomez as the best centerfielder in the American League, if not all of baseball. So, no offense to Torii Hunter, Grady Sizemore, or Ichiro Suzuki, but the Gold Glove voters got it wrong last season. But what else is new.

All of this covers up the fact that Gomez was a horror on offense last season. He managed only a .656 OPS, a 142/25 K/BB ratio, and couldn't get his OBP over .300. And while he stole 33 bases on the year, 11 of those came in April. Gomez should be better this year, but he needs to be much better if he's going to contribute on offense.

For the two corner outfield spots, the Twins have Denard Span, Michael Cuddyer, and Delmon Young. In 93 games last season, Denard Span had 70 runs, 102 hits, 50 walks, 7 triples and 18 stolen bases, along with a 125 OPS+ and 14.2 adjusted batting runs. His percentages were .294/.387/.432/.819. He also finished 18th in the majors amongst rightfielders in the Hardball Times' "Plays out of zone," which is not bad for a guy who played only 85 games at that position. And all of this was a continuation of the blistering 40 game start he'd gotten in Triple-A in 2008.

All of Span's numbers are excellent. Over the course of a full season, he looks like he'd finish in some pretty lofty territory – 130 runs, 190 hits, 90 walks, 10+ triples, and 30+ stolen bases. The Twins have apparently decided to have Span share time with Delmon Young, which is fair – it is easy to forget that Young is only 23 and improved slightly last season. If he comes through on his potential, it could be huge.

Not much to say about Cuddyer. Very underrated. When healthy, he is a productive player. The Nationals probably wish they had a guy like him, but the Yankees don't.

I am fascinated to no end by Designated Hitter Jason Kubel, and I don't think nearly enough has been made of him. In the minors he hit .320 in 448 games with a .499 slugging percentage and an .887 OPS. In 2004, his last fill season in the minors, he hit a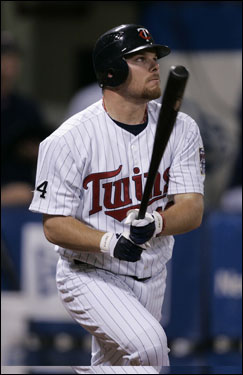 Jason Kubel

combined .352 at AA and AAA. He doesn't strike out, he takes walks, and produces runs. After two partial seasons, a solid 2007 and a better 2008, Jason Kubel could play 150 games this season and hit 30 homeruns.

At this point I think there are only two teams who absolutely bleed talent out of the Starting Rotation – the Tampa Bay Rays, who as I have stated could trade away pitchers and still be fully stocked, and the Minnesota Twins, who despite having traded away two premium pitchers last year remain fully stocked.

But this comes with a hedge; since 2005, the Minnesota Twins' pitchers have been significantly better at home than on the road. Their ERA each season is more than marginally better at home, topping out with 2008, when that split was 3.22/5.11. The Twins look like excellent pitchers at home, but look awful on the road. I would suspect that the truth lies somewhere in between. I would also suspect that this means their pitching is heavily dependant upon their defense, which probably has a better time getting to balls on the Metrodome's turf than on the rest of the AL Central's balking playing surfaces.


| | | |
| --- | --- | --- |
| Pos | '08 | '09 |
| SP | Blackburn | Liriano |
| SP | Baker | Baker |
| SP | Slowey | Slowey |
| SP | Perkins | Blackburn |
| SP | L. Hernandez | Perkins |
| SP | Liriano/Bonser | Humber/Mulvey |
| CL | Nathan | Nathan |
| RP | Bonser | Ayala |
| RP | Guerrier | Guerrier |
| RP | Crain | Crain |
| RP | Bass | Dickey |
| LP | Reyes | Mijares |
| LP | Breslow | Breslow |
The Twins' pitching staff will be without Boof Bonser in 2009, as he misses the season after surgery to repair tears in his labrum and his rotator cuff. Will he be missed? I'm not so sure. While he may be one of the top minor league pitchers of this decade, his stuff has not seemed to fly at the major league level. And unlike the rest of the Twins, he is an equal opportunity mediocre pitcher - his road ERA (5.23) is not significantly higher than his home ERA (5.03).

To say Francisco Liriano is the key to the Twins rotation is to overstate the case. Liriano returning to his amazing form of 2006 this season would make the rotation unstoppable, but if the Twins could merely get 175-200 innings out of him and he keeps his ERA under 4.00, it will have been a successful season. Liriano's home/road splits are a concern. Even in his dominant 2006 campaign, his ERA was a run higher on the road (1.64/2.67), and last season, it was two-and-a-half runs higher (2.76/5.35). I won't delve into this too much, but I'd like to see him be marginally better at home, not significantly better.

Nick Blackburn was probably my favorite Twins pitcher going into last season; now I am not so sure. He had 30 more hits than innings pitched, less than half as many strikeouts, and gave up 23 homeruns in 193.1 innings. Plus, he was not immune to the home/road splits either. In the minors, he looked like a finesse, control pitcher. In the majors, I think he looks like a bottom-of-the-rotation innings-eater.

On a team that gave up lots of hits, Scott Baker managed 11 fewer hits than innings pitched in 172.1 innings of work. He also posted a strikeout-to-walk ratio in the 3.5:1 area, which is mightily impressive. His road ERA was a run worse than his home ERA, but at 3.95, you can still live with it.

Glen "the Little Lefty" Perkins is a bit of a Nick Blackburn clone: can't strike guys out, gives up tons of hits, and gets shelled on the road. I am not sure what happened to his velocity – in the minors he struck out over a batter per inning – but I suspect that it was simply easier for him to get the minor leaguers out with his 5'11" frame than it has been in the majors. Perkins allegedly has four pitches, but it looks like he was only throwing one of them last season.

The first time I looked at Kevin Slowey's minor league numbers, I was so excited that I couldn't sit down. Coming into last season, he'd pitched 353 innings, and he'd struck out 342 batters while walking only 48 (K/BB over 7-to-1) with an ERA below 2.00. This 6'3" righty, a former second round pick, also gave up almost 100 fewer hits than he'd had innings pitched, which is truly remarkable. This guy had what it takes.

In 2008, his first full year

Twins Fun Fact
Ron Gardenhire has won four divisions in seven years with the Twins, plus finished tied for the AL Central lead last season. Before Gardenhire took over the team, the Twins had won five divisions from 1961 to 2001.

in the majors, he came back to earth a little but showed signs of greatness. On a team with the second worst hits/inning in the AL last year, Slowey was right at 1:1 (161/160.1) and managed a K/BB rato over 5:1 (123/24). As with the rest of his team, he didn't get it done on the road (2.89/4.52), but he managed to keep his DIP numbers consistent at home vs. on the road – his K/BB ratios and homeruns allowed were essentially the same.

Here's how you look at the Minnesota Twins rotation in 2009: Throw out Liriano for the time being, and treat this like a four-man rotation. Either Slowey or Baker will be the ace of this staff, with the other filling in the number two slot. Perkins and Blackburn will share the three and four slots. Whichever gets off to the hotter start will fill into the third hole, with the other taking the four hole.

Then you bring in Liriano, the wild card, the X-factor. If he is back to his 2006 form or anything close – which his spring performance has indicated that he will be – he becomes the ace. If he can pitch 6-8 innings every game, get about a strikeout per inning, and keep his ERA down, you insert him in the two or three slots. If he struggles, and looks like he needs some time, you stick him at the back of the rotation.

That is a nice problem to have.

The Bullpen has been so dominant for so long it is almost hard to even entertain the thought that it could be a problem. Seriously, since they moved to Minnesota, the Twins have been without a solid-to-great closer maybe three different seasons. Check it out:

Ray Moore (1961-1962), Bill Dailey (1963), Al Worthington (1964-1968), Ron Perranoski (1969-1970), Tom Hall (1971), Wayne Granger (1972), Ray Corbin (1973), Bill Campbell (1973-1976), Tom Johnson (1977), Mike Marshall (1978-1979), Doug Corbett (1980-1981), Ron Davis (1982-1985), Keith Atherton (1986), Jeff Reardon (1987-1989), Rick Aguilera (1990-1995, 1997-1998), Mike Trombley (1999), LaTroy Hawkins (2000-2001), Eddie Guardado (2002-2003), Joe Nathan (2004-present).

In that whole batch – nearly fifty seasons – you have a handful of years that were troublesome. One of Ray Moore's years, Tom Hall, Keith Atherton, Trombley, one of Hawkins's years. That is an incredible record. One is pushed to conclude that it may not be too difficult to finish games in the Metrodome.

Last year I was willing to call Joe Nathan old, and he had one of his most dominant seasons yet. I won't make the mistake again.

It is hard to not like Jose Mijares, who, at four levels last season, had a strikeout to walk ratio of 46:11 in 47 innings. This runs counter to his career before 2008, but who knows, maybe he's learned how to pitch. Jesse Crain and Matt Guerrier round out the bullpen. Guerrier is a better pitcher than his 5.19 ERA last season let on, and Crain has been a stud in the majors and minors and there is no reason to not like him as a setup man.

Outlook for the Season

If the Twins and the Phillies switched cities, the whole country would know who Justin Morneau and Joe Mauer were and Chase Utley would be the best kept secret in baseball. Send this team to Chicago, and the whole country would follow Francisco Liriano and Kevin Slowey, and Ted Lilly and Ryan Dempster would be pitching in anonymity.

The Twins snuck up on some people in 2008 and nearly won the AL Central. I think the AL Central is a lot more wide open than it was last season, so I expect a lot of people to be surprised once again by what the Twins manage to pull off.


Team Previews Index

Do you have a different take? Send your opinions to submissions@baseballevolution.com.